"You can't manage what you can't measure." It's an old adage in business, and like many it has its limits, but clear, comprehensive data and reporting truly is crucial for advisors and advisory firms looking to maximize their business.
The challenge is that this data might be locked away in multiple systems, or data from one place might be needed to calculate or give context to data in another. NexJ has solved this challenge with its Analytics and Reports, a key component of the Integrated Advisor Desktop solution we have deployed for major firms.
Features of the Analytics and Reporting Functionality
Like all components of the IAD solution, the Analytics and Reports functionality is designed to integrate with all of a firm's existing CRM and account management systems. Using data from different sources, the functionality can provide value focused visualizations to the user – showing an advisor how he or she is performing across clients, or letting managers look for patterns across the company. Key features include:
Flexible, run-time report and dashboard creation

using data from all native and integrated sources that deliver meaningful insight into any activity or process

Insight into sales and marketing activities

are available out-of-the-box to allow real time management of KPIs.

Data orchestration across applications

in real time using Kafka, which eliminates dual-keying, maintains a "golden" source of data, and deliver transparency to the advisor.

Tailored to different roles,

creating real time reporting and dashboards across all data important to the advisor, team leaders and corporate users.

A user-friendly workspace

enables users to work with all connected data and apply context to provide business driven insights.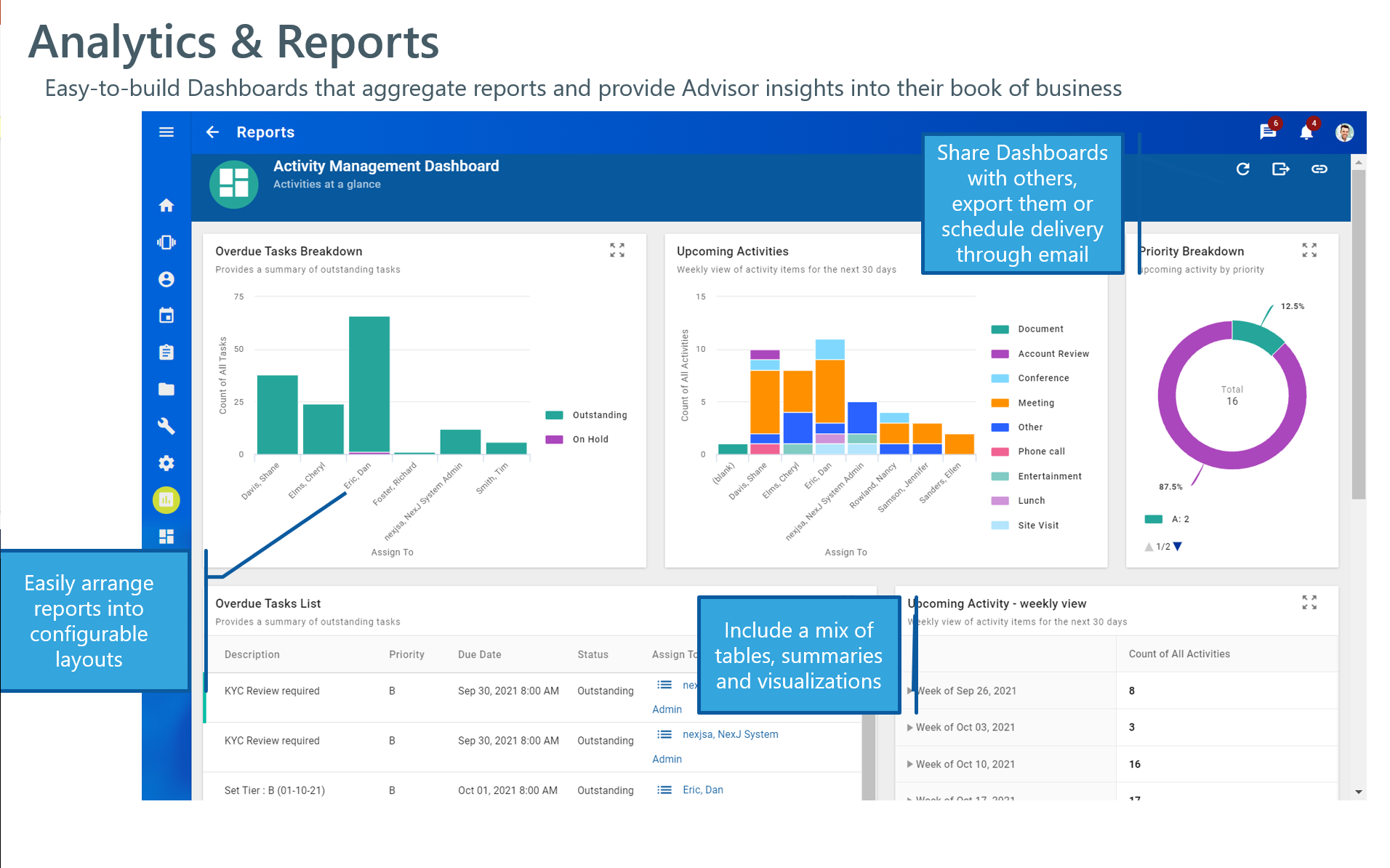 Benefits to the advisor and organization
Advisors need to understand at a glance how they are performing and where there is room for improvement. Real time reports give them actionable insights about where to focus their attention. At the same time, historical reports can help advisors identify patterns in their workflow so they can better manage their time going forward.
At the firm level, the ability to see how the entire team, a group of advisors, or a specific advisor are performing will help leaders make sound strategic decisions and allow managers to offer their advisors the support or guidance they need.
The Analytics and Reporting functionality ties into the other functions of the NexJ IAD – the Advisor Desktop, Engagement Desktop and Client Dashboard – to offer 360-degree support and visibility.
Of course, many of the most important things an advisor does – building meaningful relationships with clients, understanding a client's dreams and goals – can't be measured. But by managing what we can measure, we help advisors and firms do a better job of supporting their clients.
Book a no-obligation meeting to further explore the Analytics and Reporting functionality within NexJ's Integrated Advisor Desktop.