In any industry, like financial services, that relies on maintaining deep relationships with their clients, it's critical to understand and service the client across their entire journey. Successful client experience solutions focus on features across what we call the "The Customer Lifecycle."
By implementing functionality across the lifecycle, using all of the information available to you about the client, you are better able to service the client and maximize their lifetime value.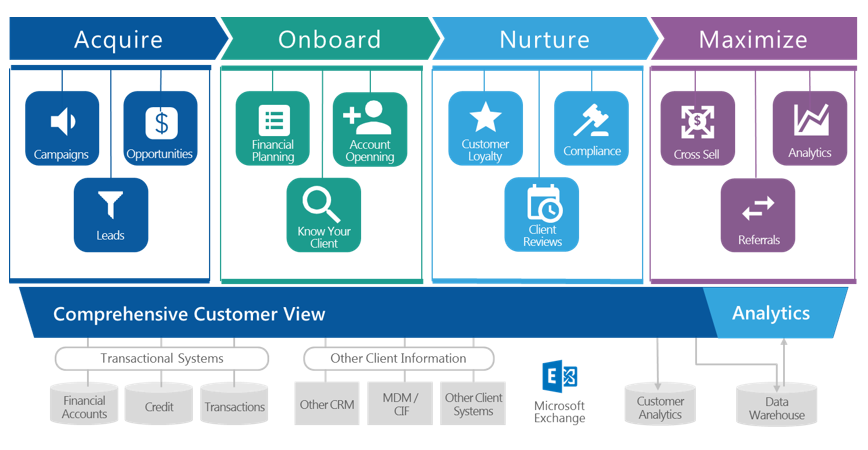 Acquisition is the initial formulation of the relationship. Remember that in the Age of the Customer, the client already knows a lot more about you than you do about them. It's important to build confidence fast with modern campaign management, both automated and advisor/RM driven, and opportunity management to ensure that you are providing the products and services your client demands.
Once the client has the confidence that you are the right firm and the right Relationship Manager for them, the Onboarding process starts. This is the first opportunity you have to show the client you really understand who they are. Use all of the information about them that you already have and only ask questions that are relevant to the products or services they are purchasing. A fast automated approval process ensures an ideal client experience and will further increase the client's confidence.
Once the individual or company is a client, Nurture the relationship. With high levels of client satisfaction, you can now Maximize lifetime value with advanced analytics that recommend cross-sell opportunities and help to guide referrals.
None of this is possible without a comprehensive customer view that includes all information about your client regardless of system, region, or product line that holds the information. Each function point must have access to all of the firm's knowledge about the client and, almost more importantly, must add to it as the client volunteers more.
Contact us to find out how we have applied this technique to create successful client implementations and maximize your client lifetime value.