Financial advisors are inundated with data. It can be frustrating and time consuming to say the least. Worse, having to navigate so many streams of information leaves precious little time for actual client engagement. Thankfully, there is an integrated, intuitive solution that harnesses all of the data points and next best actions an advisor needs and presents it all in one seamless dashboard.
The Advisor Dashboard within NexJ's Integrated Advisor Desktop solution empowers wealth managers to transition from being account centric to customer centric. Our wealth management-specific application delivers robust, out-of-the-box functionality that can be immediately applied, allowing advisors to be more productive and engage with their clients in a highly personalized way.
"Six Benefits of NexJ's Integrated Advisor Desktop"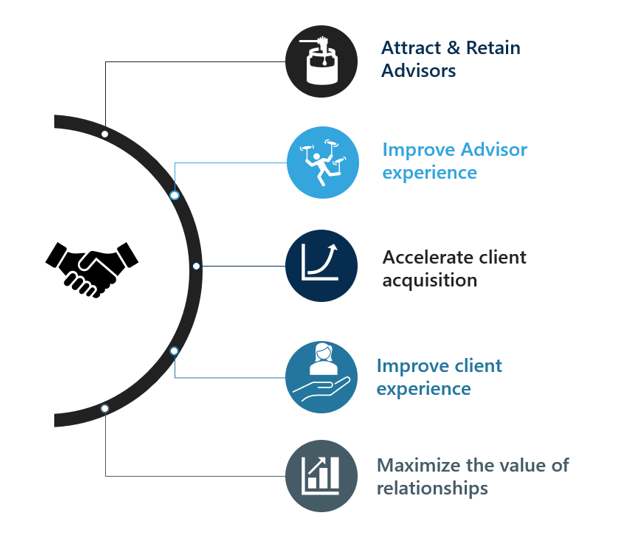 The NexJ Integrated Advisor Desktop was designed and built on the principle that bringing together data from a diverse range of applications drives efficiency and improves client satisfaction. In fact, our clients have successfully used the NexJ platform to integrate an average of 13 systems to deliver seamless solutions that enable a better user experience. As a responsive application, advisors enjoy the same experience, whether they are on a desktop, tablet or cellphone. In short, NexJ's Integrated Advisor Desktop centralizes all the critical systems that advisors use every day in a seamless, consistent experience, enabled with single sign-on.
Let's look more specifically at the Advisor Dashboard within NexJ's Integrated Advisor Desktop:
The Advisor Dashboard is the first screen an advisor sees when logging on to start the day. The dashboard displays information across the advisor's book of business from all integrated systems, including portfolio management, financial planning and book of record. The advisor sees the following capabilities all in one view:


Notifications from all integrated systems, whether it relates to a 3-year KYC update or a maturing security or any other desired notification.


The main KPIs that are important to an advisor's business, such as top accounts, top holdings or recent transactions.


Flexible, real-time analytics and reporting to present user reports and dashboards that can be shown on their homepage.


Commonly executed actions the advisor takes can be launched from the dashboard, such as adding recurring events.


Links to launch applications or access data that is not embedded within the dashboard.


A global search function to search across the book of business for clients, accounts, holdings in specific securities, and more.


Integration with Microsoft Exchange to capture email communications and automatically synchronize schedules.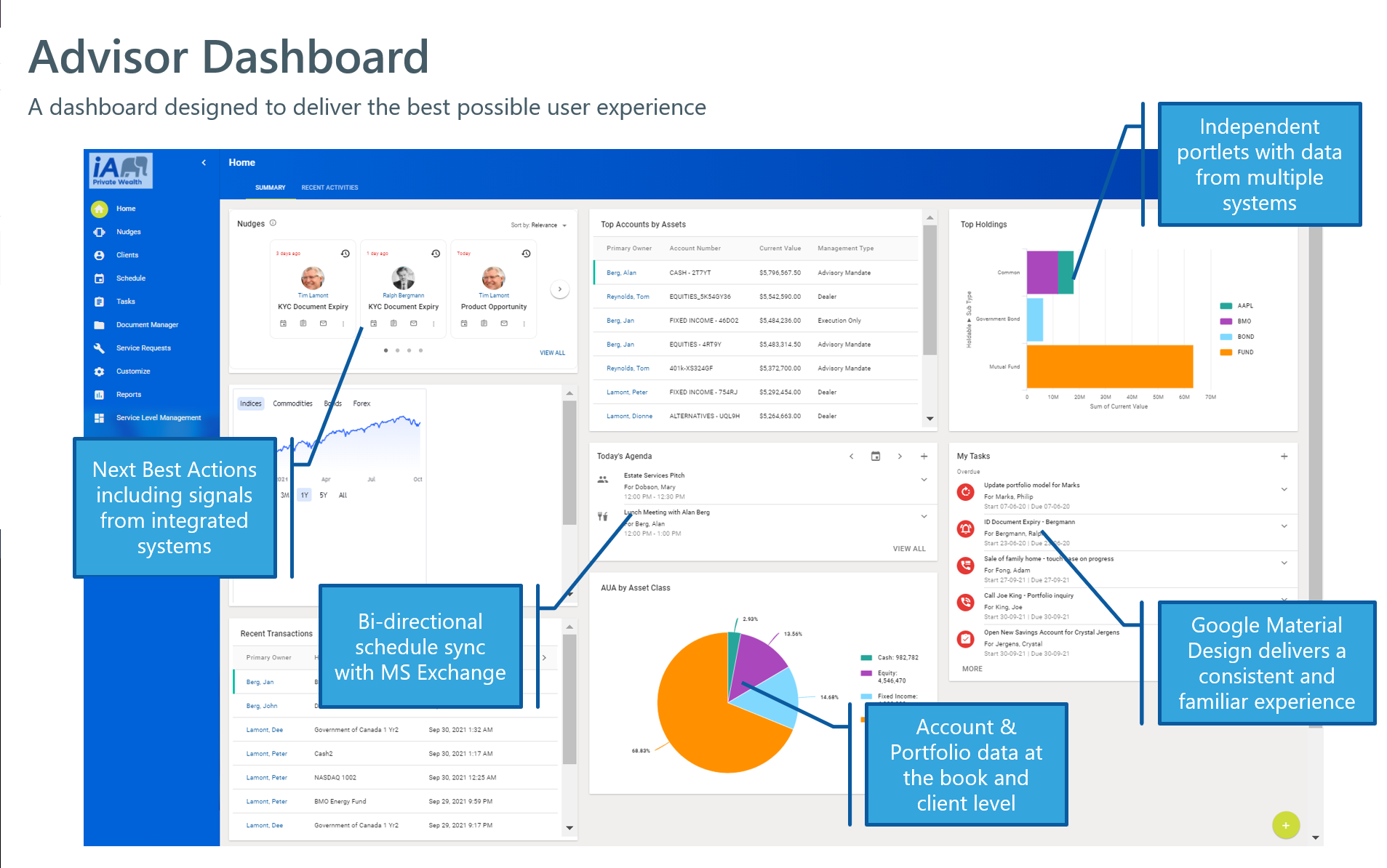 As you can see, NexJ's Integrated Advisor Desktop is a comprehensive solution that enables our clients to retain advisors, grow assets under management, and improve both the advisor and client experience.


Book a no-obligation meeting to further explore the Advisor Dashboard within NexJ's Integrated Advisor Desktop.