Timely and relevant client engagement has never been more important in the wealth management industry than it is today. The last couple of years have upended expectations for advisors and clients alike. The ability to engage in real-time, highly personalized interactions on topics hyper relevant to clients is now table stakes for advisors and the firms they work for.
What advisors need is a client engagement dashboard that is equally intuitive and robust, providing easy access to timely and carefully curated engagement opportunities.
At NexJ, our client engagement capabilities support the extraction of insights from client data and make recommendations for personalized engagement that can drive greater client retention, faster acquisition, and maximization of the value of client relationships. NexJ CRM for Wealth Management was developed specifically for the wealth management industry, so we know the pain points and opportunities advisors face every day. We've built our dashboard specifically with that in mind.
Our Client Engagement Dashboard allows the advisor to focus his or her attention on the most valuable actions they can take right now to deliver a personalized experience for every client. Armed with an integrated 360-degree view of the client, our engagement solution recommends reasons to engage, automates actions, supports best practices and helps administer company policy. And that's just the start.
Specifically, the NexJ Client Engagement Dashboard delivers the following:


Presents recommended actions to the advisor from all integrated systems. Based on a sophisticated, configurable prioritization algorithm, the advisor can see at a glance a suggested list of critical actions that require their attention. Also, when meeting with a client, the dashboard presents a comprehensive view of all potential topics to cover during the meeting.


Enables advisors to react to data insights, signals for action and compliance activities without having to search themselves. This capability results in a significant productivity gain and is achieved by having a consolidated view of all actions available, such as a list of compliance activities organized by time sensitivity.



Uncovers actionable insights for life events, personal interests and other opportunities through NexJ's proprietary Natural Language Processing solutions. Signals for action are detected and presented as potential engagement points with clients. Embedded best practices ensure an efficient, seamless experience for the advisor and client.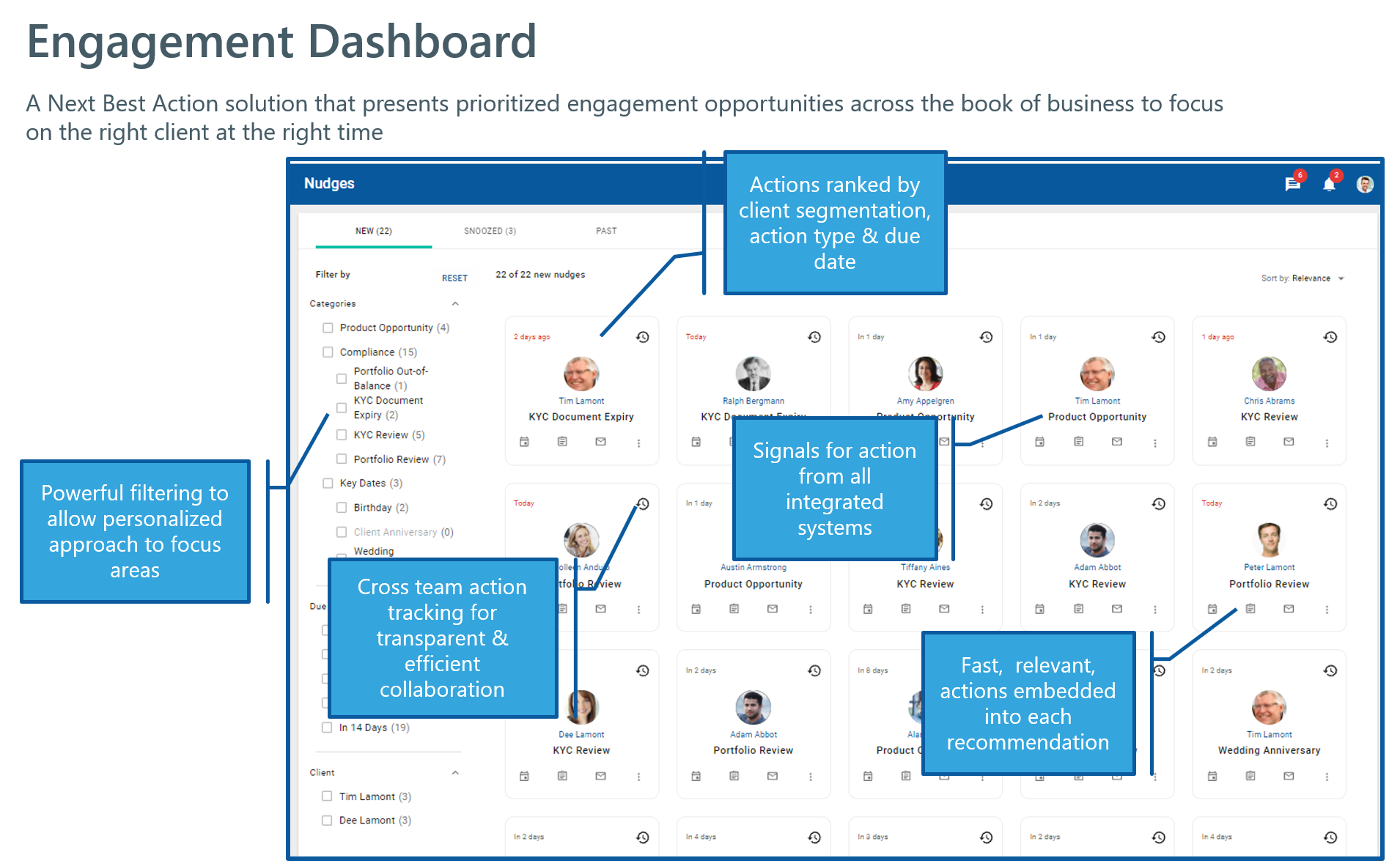 Collaboration tools within the Client Engagement Dashboard allow for both internal and external connections. Internal users can use the conversation capability that allows cross-functional dialogue about specific clients and issues, which are then stored to the client profile.
Even better, out-of-the box bi-directional Microsoft Exchange integration means emails, meetings and tasks are synchronized real time and stored against client records. For example, RBC saved 30 minutes a week per user with this simple, but effective, integration. For external collaboration, NexJ leverages financial services-specific digital collaboration tools that support voice, video, secure messaging, screen sharing and co-browsing.
Interested in learning more about the power of an Integrated Advisor Desktop? Download our free brochure and learn how to go beyond your CRM.