"Money in motion." It's a phrase many advisors are familiar with. However, to capture that money is easier said than done.
Not only must advisors be clued into money in motion events, such as a client getting married (or divorced), having a child, inheriting money, selling a business, or changing careers or getting promoted, but they must be able to access that intelligence in real time with actionable ways to capitalize on the opportunities presented.
Of course, major life events don't happen every day. Still, there are countless other opportunities to deepen relationships with clients by offering relevant, personalized advice and recommendations, such as specific investment opportunities based on market movements, or articles / research based on a client's interests.
It sounds so obvious. However, many advisors struggle to make these timely, personalized connections with clients. To do so, advisors need intuitive technology at their fingertips that is designed to enable them to recommend next best actions for their clients as efficiently and effectively as possible.
As Celent states in its 2021 XCelent Awards report, "Of key importance are differentiated client experiences that improve meaningful client-advisor engagement, automate onboarding processes, and facilitate hyper-personalization, especially through the application of AI and next best actions."
At NexJ, we understand how critical it is for advisors today to engage with clients and prospects in a way that is both timely and deeply personalized. That is exactly what we designed our Nudge-AI Suite to do, to help advisors maximize their relationships with clients through real-time interactions that are specific to a client's individual situation and needs.
For example, our Nudge-AI assistant presents next best actions in order of highest value to an advisor. Those actions could include compliance actions such as KYC reviews, time-based actions like birthdays or anniversaries, and life events such as the birth of a grandchild. The assistant generates scores and ranks these actions based on industry best practices or firm guidelines. Not only that, Nudge-AI can help to ensure compliance by tracking regulatory frameworks and issuing alerts accordingly.
Celent sums up NexJ's Nudge-AI Suite as "driving better, smarter, and more personalized engagement with a Next Best Action solution that drives advisors to interact with the right client at the right time."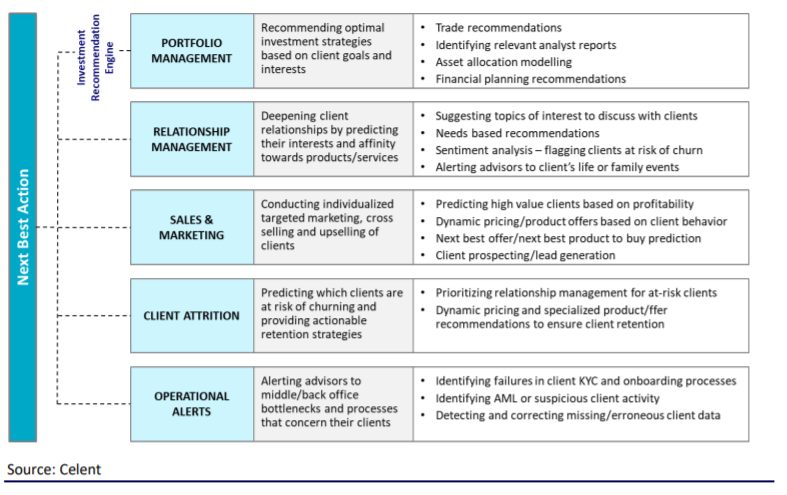 Download Celent's report on NexJ, including its innovative approach to using AI to power next best actions.