Wealth managers are constantly looking for ways to enable greater efficiency and productivity for their advisors. Providing tools that automate workflows, increase capacity and advance collaboration helps advisors focus on what matters to grow assets under management and improve client satisfaction. Often these tools, such as portfolio management, financial planning or performance reporting for example, are "stand-alone" products which makes it difficult for the advisor to have the full context of their client in one place. An Integrated Advisor Desktop solves this problem. Last week we discussed how application or UI integration, when done properly, can dramatically improve the productivity of your advisors, but that isn't enough, you also need data integration.
Data integration helps advisors understand their book of business, clients and households better. Unlike application integration, data integration gives an advisor access to the data from the source system as if they were actually using that stand-alone source system. Another way to think of it, rather than simply passing data between systems the way application integration would do, data integration means the data is live and synchronized. For example, data integration allows advisors to access data from portfolio management to see holdings and investable cash balance, access data from CRM to see demographic information such a location and access data from financial planning to see goals. With this data the advisor can recognize which of their clients is invested in the tech industry, has $20k in cash, lives in Toronto and have not had any active dialogue for 3 months. With this information they can build a strategy to engage. It also allows firms to run analytics and AI on the data to discover new client interests, product opportunities or upcoming life events.
Without data integration, a desktop is just a set of connected portlets that show the advisor information about the client but nothing more. No added value. No additional insights. No recommended actions.
NexJ is designed for ease of integration.
NexJ's flexible integration and persistence technology enables organizations to access all client and household related data. Data can be integrated and left at source, like financial accounts, or it can be synchronized which creates a copy, like Exchange Sync. NexJ's data persistence layer is the primary mechanism used by our IAD to support data integration. A key aspect of the NexJ architecture is that the framework treats all data integrated through the Persistence Layer the same way, including the core data used by the NexJ solution. Any application or service can access the data the same way, regardless of where it came from or how it was integrated. This allows the IAD to gain full access to the data, analyze it for additional insights and present it to the end user. Data integration gives advisors access to a single point of truth about their clients and households across company-wide sources.
See below for a selection of applications that we have integrated into advisor desktops for firms like Wells Fargo Advisors, Credit Suisse, RBC Wealth Management, and UBS.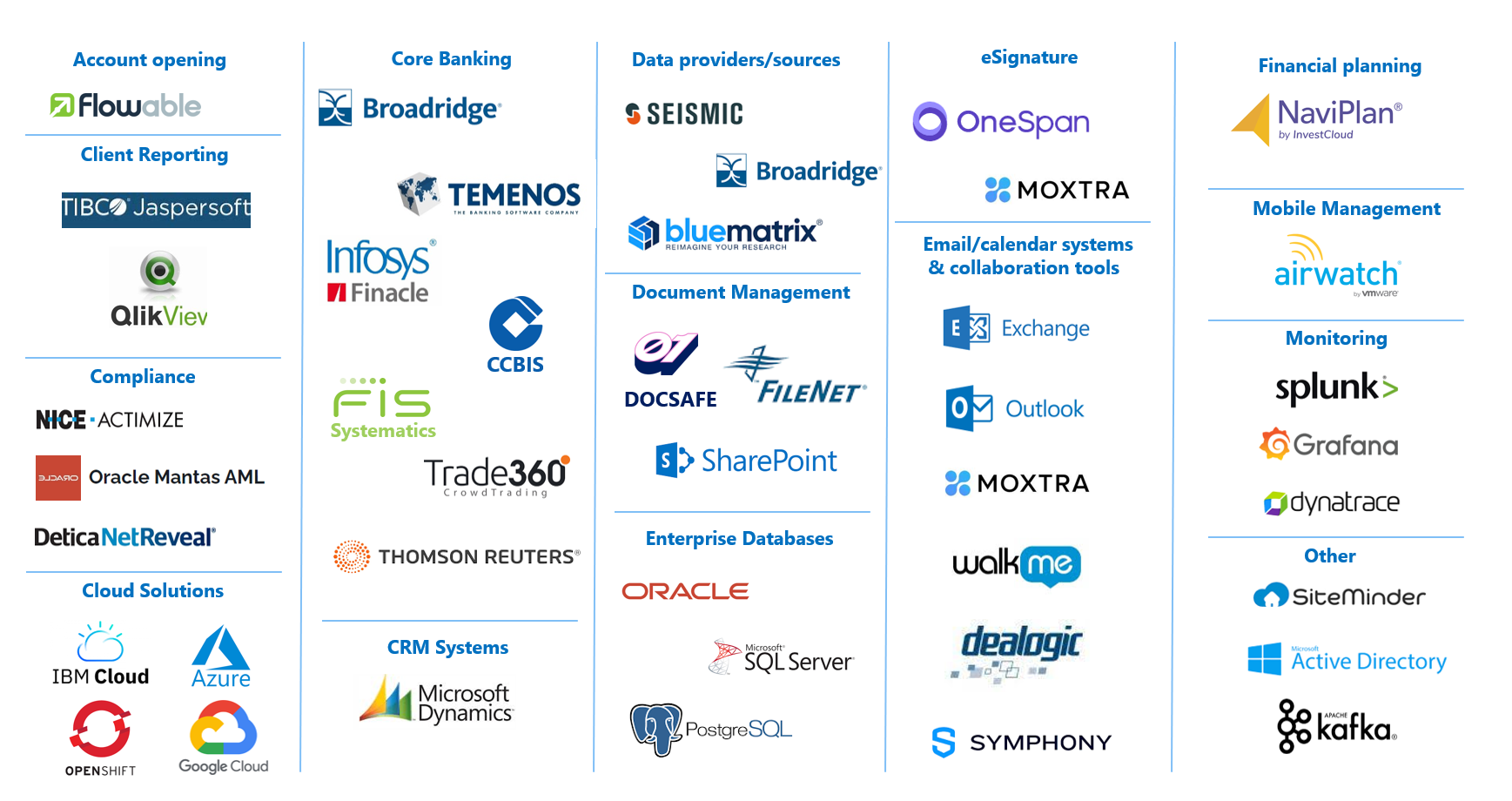 Many vendors have pre-built integrations to many of these systems. But what kind of integration is it? Is it a light API driven integration that simply launches a process? Is it a deeper UI integration that allows for participation in an integrated desktop improving productivity, or is it a data integration that helps advisors provide better customer service. And, if it is a data integration, how easily can it adapt to your firm's customizations.

Most of your systems have been customized to meet your exact requirements, which will force you to either build expensive customizations to pre-built integrations or live with an incomplete and inefficient Advisor Desktop. It's not enough to just have pre-built integrations, your desktop must also have a robust integration framework that can quickly adapt the integration to your requirements and give your advisors the fully functional integrated advisor desktop they need.

Deep UI and data integration doesn't have to cost a lot more than a pre-built integration. With the right framework that is built for Wealth Management, your advisors can get a desktop that both increases productivity and helps advisors better understand and service their customers.

Join us as we continue this discussion in our next blog about how a pre-built Wealth Management Model can simplify and future-proof the implementation of an IAD.