I admit it; though I've been marketing software companies for many years, when it comes to earning recognition from the industry, I still feel a great sense of achievement. So when Aite Group, a global research and advisory firm, recognized NexJ for being top in features and technology in their report Next-Era Wealth Management CRM: Technologies to Acquire and Engage, I was elated.
The report analyzed 15 major technology vendors in North America and evaluated the vendors across several categories including but not limited to channels supported, depth of functionality supported, ease of use, ability to integrate, ease of configuration/customization, and deployment options.
The evaluation of our solution found several key strengths that led to our acknowledgement. In particular the report highlights our domain expertise, our integration capabilities, our analytics capabilities, and our ability to handle multiple types of customer data to create a single view of the customer and show it in a simplified way.
Working with industry analyst firms is a priority at NexJ and has resulted in great coverage for our solutions over the years. The acclaim, however, is not the only reason for engaging in this activity. Industry analysts continue to be a source of insight used to build out the product road map. They also serve as tremendous references when their clients are looking for a solution like ours. In other words, they introduce us to opportunities we might not otherwise be aware of.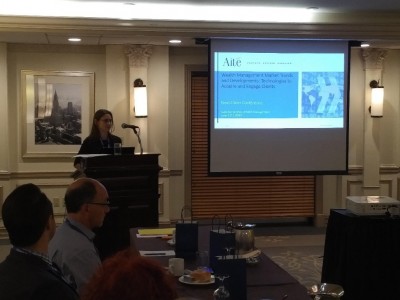 NexJ recently hosted an event in New York that brought together executives from several of our current and a host of prospective customers. The theme was CRM in Wealth Management and we enlisted the services of Isabella Fonseca from Aite Group to speak on the trends and new developments in the market. Isabella also led an active discussion at a roundtable session that brought forward several innovative ideas about how some of the world's largest firms would like to advance CRM.
Our longest standing client, one of the largest wealth managers as ranked by assets under management, felt the event was "great and exceeded expectations." And our newest customer, a global financial services firm, stated they "really found it to be very valuable." I would like to say this was strictly a result of the great content delivered by the thought leaders at NexJ but I believe the added benefit of the industry influencer was a significant contributing factor.
When the industry experts conclude that NexJ technology is the best, it reinforces that we are on the right track, following the right strategy, and building a differentiated product. And when they have the insight about the business to a point where they are able to properly address an audience of senior managers at the most recognized firms, you are increasingly confident the industry is aligning to your vision.