For some, it's about reducing costs by modernizing the back office. For others, it's about leveraging disruptors within their enterprise. For NexJ, it's all about the customer.In the age of the customer, the customer is in control of their journey. They dictate how and when they will interact with the firm.
This means that firms need to open up new channels and services to their customers like modern mobile apps or chatbots.
Customers are also used to immediate feedback and are becoming more and more impatient. Firms must react by streamlining the experience, which can start with the automation of customer processes such as onboarding. But, to provide exceptional customer service, streamlining should extend deeper into analytics and AI that provide not only insight but recommended actions such as proactive decision making and next best offers from customer journey prediction.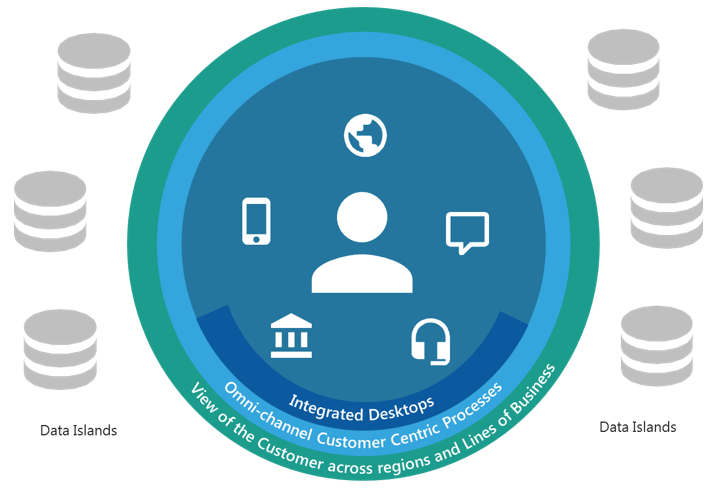 It all starts with the customer at the center who wants to interact with your firm with the channel of their choice such as a mobile app, web portal, chatbot, call center, or even a brick and mortar branch. All of these channels need to have access to the same customer information and the same set of running customer processes. Customers should be able to start any process on one channel and complete it on another. For example, customers want the option to start an onboarding process on the web, continue it with a call center, and finish it with an advisor.
If a customer chooses to talk to a banker or a call center, a single integrated desktop is needed to deliver a complete view of the customer and serve as the launching point for any customer service process. The integrated desktop removes the need for advisors and bankers to switch between applications, allowing them to spend more time with the customers and less time with the technology.
Finally, to execute a customer-centric digital transformation strategy, you need a single view of the customer that can be leveraged by every channel so that regardless of how the customer interacts with your firm, you know who they are and what they have done. Your firm likely has customer data islands; disconnected information about customers located within regions, lines of business, and out of date systems. You must link all of this data together into a consistent view. This can be daunting if it implies replacing or modernizing all of these systems and forcing all of the business units to change their processes. A better way would be to leave these resources alone and simply leverage the data in a new enterprise view of the customer that can be used to drive the firm-wide customer experience.
Leaving the data islands alone also means that you don't need a single massive single delivery or big bang. Your firm can choose an incremental agile approach that aligns on prioritized customer processes and focuses on their necessary customer elements and optimization techniques like robotic process automation. You can get parts of the solution to the market faster with observable outcomes and measurable results. The massive single delivery becomes a series of continuously evolving streams of improvement.
NexJ solutions work together to implement customer-centric digital transformation:
NexJ CRM enables bankers and advisors to know their customers better by providing a complete view of the customer across all integrated data sources. It also encourages collaboration across product lines and regions to not only improve customer service but also gain a greater share of wallet. The desktop binds together all of the applications that bankers and advisors need to interact with the customer and improve the customer experience.
NexJ CPM digitizes workflows and exposes them across channels. Productivity increases as the system streamlines forms by reducing errors and hiding forms and questions that are not needed. Customers are more satisfied as they can choose how and when they will interact with the bank.
NexJ CDM harmonizes the data islands, allowing local regions and product lines to keep their existing processes, but exposing a complete enterprise wide view of the customers to the people and channels that need it. NexJ CDM also feeds a consistent view of the customer to all of the analytics models, reducing the cost and increasing accuracy. The end results are better insight and recommended actions that are delivered back to every channel. For example, if an advisor is having coffee with a customer, he will see the same next best product on his smartphone as the customer will see on the website.
A customer-centric digital transformation strategy requires the harnessing of customer data across the enterprise, the implementation of customer-centric processes across channels, and an easy-to-use advisor and banker desktop for front office workers. Are you executing on a strategy like this? We'd love to hear about your challenges and solutions. Leave your comments in the section below or send me an email.