Our hard work continues to get noticed as Nucleus Research, a global research and advisory firm, has once again recognized us as an Expert in their most recent CRM Value Matrix.
Leading the way with our financial services focused relationship management software we continue to bring a unique value proposition and industry expertise to market.
The report analyzed 21 CRM vendors across various categories, including customer satisfaction, community support, and the ability to deliver ongoing innovation. Noted in the report are our investments in Artificial Intelligence (AI), edge technologies, and our ability to reduce ongoing CRM support costs. At the recent CRM Evolution event in Washington Nucleus analyst, Rebecca Wetteman (@rebeccawetteman), has previously stated that the return on investment on Edge CRM was an amazing 4.2 times that of a regular core CRM, bolstering the value we bring to our clients.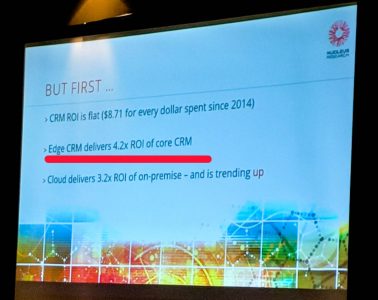 Nucleus's report also focused on the CRM vendors' investment into embedded AI and integration initiatives. This is nothing new for NexJ, as we have been implementing AI into our product suite since inception. Our pragmatic approach has cemented a strong base for advanced AI, empowering our clients to work faster, better, and smarter with our Intelligent Customer Management products.
Building a differentiated product that helps our clients integrate all of their data is at the very core of what we do. Removing data silos and being able to integrate constantly increasing amounts of customer data will become even more important as the focus on customer personalization heightens. Combining industry-specific knowledge with our innovative ability to integrate data puts our clients heads and tails above other organizations in an increasingly competitive financial industry.
Expert status in the most recent Nucleus CRM Value Matrix reminds us of the value of what we bring to the table. Not only do we bring years of expertise, but we also bring forth philosophies that are only just being adopted by our competition.