Toronto, my home town, is a great city. The Economist has ranked it as the best city in the world to live in. I've lived elsewhere, other Canadian cities and in the USA, but I keep coming back. That said, it's not often that Toronto plays host to a conference that I would attend. In 2017, however, two such events have already been scheduled.
Later this year, in October, Sibos, the world's premier financial services event, will be held at the Metro Toronto Convention Centre. I'm excited for that one. And this week we will be at the Cantech Investment Conference, Canada's biggest technology conference.
It's our second consecutive year at the show and I'm looking forward to once again spending time with all the players in Canada's technology investment scene. I anticipate a busy day at our booth with over 3,000 attendees expected. We also have several one-on-one meetings scheduled with shareholders and prospective investors throughout the day. Further, our CEO, Bill Tatham, will be delivering a 15 minute presentation on the main stage following the keynote address featuring Edward Snowden discussing Democracy & Free Press in Canada.
This is a great time for NexJ to be sharing its story with the capital markets. Over the course of the year in 2016 NexJ's equity value increased by greater than 85% making it the second best performing tech stock in Canada behind only Intrinsyc Technologies.
The rise in share value can be attributed to the success of the business. From 2014 to 2016 revenue has increased by approximately 40% and we anticipate reporting about $4 million in EBITDA in 2016 versus a loss of almost $2 million in 2014. The company is performing well.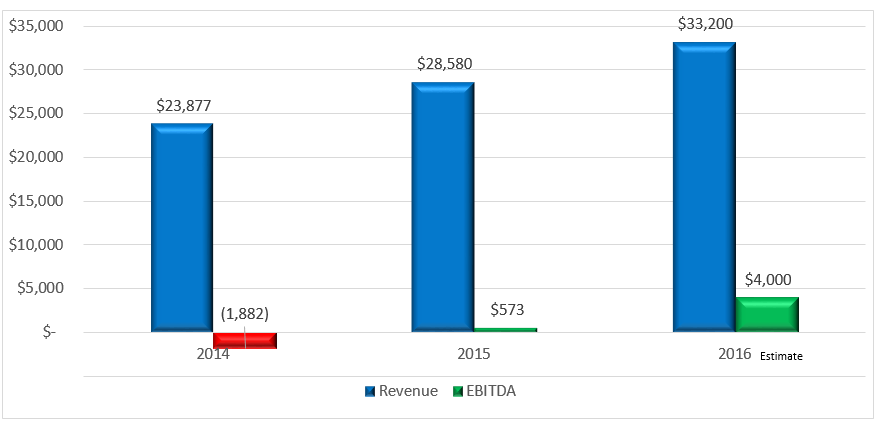 It's great that Toronto is becoming a place where big tech events are taking place, the city deserves it. And I am particularly pleased about this as it allows me to attend and still go home and sleep in my own bed.